SCROLL DOWN FOR A MONTHLY LIST OF DANCE PARTIES AND EVENTS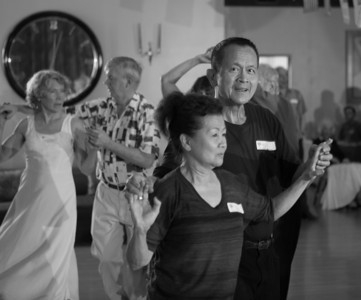 Everyone welcome, Beginner to Advanced, Singles and Couples.
There is always a mixer lesson to start so people can meet potential dance partners, remember some steps and say hello to friends.  Then open dancing begins, with a variety mix of classic to contemporary music. We also hold great mixer dances during the evening as well!
Thursday Parties
Saturday Parties
See the Class Calendar.
Bring smiles and good energy to a fun and safe place where you can meet other wonderful people and enjoy a healthy lifestyle.
Events List of DanceWell Parties and Nights Out

General Party Customs:  Our dances are as much a social event as a dance. We feel parties are for socializing and creating great fun with everyone!
It's usual to dance one or two dances with one person, then invite someone else to dance.  We call it the "One-Dance Custom".
Dance critiques okay?  NOT so much….
Clothing is dressy or casual and CLEAN
Breath mints are provided and deodorant much appreciated, as well as going very light on perfumes and colognes.