Request a Private Lesson
Singles and Couples
Make a request; your appointment time will be confirmed by the instructor
you can pay online, via your confirmation email, or at time of the appointment
Private Lessons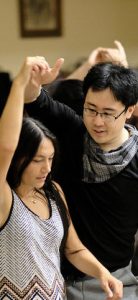 Private lessons focus on you and your own dance needs – and often you and a partner together.  Either way its the same price.  If you have taken personal training, private golf lessons, private cooking lessons, private tutoring, etc. you'll know the true value and benefit of one-on-one instruction.
PERSONAL LESSONS CAN:
Focus on the mechanics of partnering, rhythm, timing and movement.
Better fit into your weekly schedule.
Help you learn the way you like and the dances you want.
Work on routines or wedding preparations.