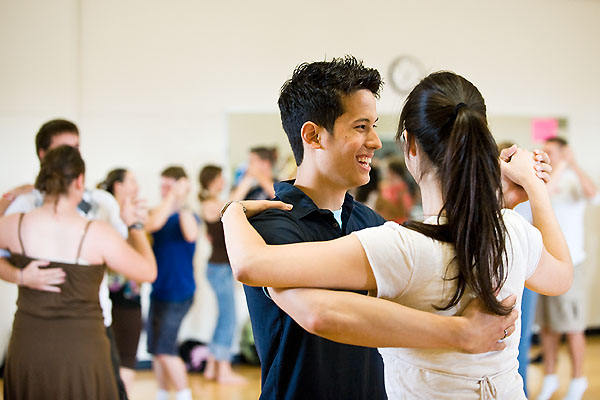 Our Class progression is: NEWCOMER & BEGINNER LEVEL (-1),  BEYOND BEGINNER LEVEL (-2) and INTERMEDIATE LEVEL (-3).  Class descriptions are below. Our most ADVANCED classes are either Medals classes, or taught in private lessons or small private groups.
DanceWell classes run on two tracks: Patterns and Technique. Repeating classes is encouraged to build a solid foundation in social dancing while developing skill and style.
Speed up the process! Attend our dance socials and private lessons to practice the new steps you've learned.
INTRO (NEWCOMER) WORKSHOPS
Skill-Set: NO EXPERIENCE NEEDED.  Occasional workshops for brand new dancers who would like to learn a few partnering skills before joining Beginner classes.

Your INTRO goals: 1) Learn simple Rhythms to music. 2) Learn balanced movement with a partner. 3) Learn some partnering "lead/follow" skills". 4)  "Get by" at a dance event.
Each new dance learned improves your general timing, partnering and movement skills. The easiest dances to begin with: Waltz, Cha Cha, Foxtrot, Salsa, East Coast Swing, Rumba.
BEGINNER – The first step
Skill-Set: LITTLE OR NO EXPERIENCE NEEDED.  Easiest for those who have experienced some sort of dance rhythms and partnering. A half hour private lesson or two can be of help if you haven't been in a Newcomer Intro workshop.

Your goals in a BEGINNER class: 1) Learn and improve movement and partnering skills. 2) Learn lead/follow, turning, traveling, twirling and more. 3) Learn the basic social dancing patterns used on the dance floor, usually the first 7 of 15 patterns. (Note: all these variations cannot be taught in one 4-week series, so repeating is encouraged.)
Note: each time you repeat a class series,  for example Waltz, you'll learn better form, partnering and movement skills.
BEYOND BEGINNER or "MID-LEVEL" – Strengthen and Enhance Skills
Skill-Set: 1-3 MONTHS EXPERIENCE IN THE DANCE LISTED. For those who can already comfortably transition with partners between a few basic patterns.

Your goals in a BEYOND BEGINNER class:   1) Improve your partnering skills and style.   2) Improve turning, traveling, twirling.   3) Add to your repertoire of dance moves, usually steps 8-15 of the foundation social patterns.  Note: all these variations cannot be taught in one 4-week series.
Also called "Skilled Beginner" or "Mid-Level" classes.  Repeating class series lets you "forget" the steps and begin to shine.
INTERMEDIATE – Develop Personal Style
Skill-Set: 6 MONTHS TO 2+ YEARS EXPERIENCE IN THE PARTICULAR DANCE BEING TAUGHT.  Continuously improving your skills, ready to add new exciting moves to your dance repertoire. For those already comfortable with their lead/follow skills in a particular dance style.
Your goals in an INTERMEDIATE class: 1) Understand and use the fundamentals learned earlier. 2) Apply your skills to more difficult steps. 3) Add to and improve your dancing skills with more advanced form and finessed movement. Become free to express yourself.
ADVANCED – (Medals dance and/or Showdance)
Skill-Set: 1 ½ -3 YEARS EXPERIENCE IN THE DANCE BEING TAUGHT. Continuously improving your skills, able to quickly review and add or create new combinations. Preparation for Medals Testing if desired.
Your goals in an ADVANCED class: 1) Review of all steps in a certain level. 2) Continue improving technique skills, lead/follow and variations. True mastery of the dance!